"I refound myself and a new me was born"
Posted on 11 Jun, 2023 |
Blog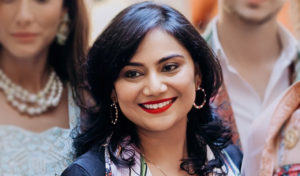 Recently I was asked by Luxembourg Women to share my story, here are the excerpts from the interview.
I am Zenia, originally from India, but Luxembourg has been my home since almost 15 years. I am a wife, mother and an entrepreneur. I feel it is possible write our own story and design the life we want to live.
Les Sûtras is a Luxembourg based fashion brand that I founded in 2016.
It creates a fusion between Luxembourg, European fashion and Indian craftsmanship, I have always been Inspired by beautiful fabrics, designs and colours, and created Les Sûtras, a brand that embraced products that was inspired by Indian art yet catered to the European taste.
Each of our product is unique, made with lot of passion and attention.
When I moved to Luxembourg 15 years ago, my life was not always easy and came with its own challenges. I did not realise earlier that moving countries can be so difficult, I missed my family, I did not speak the languages, not knowing anyone and trying to make a new life overwhelmed me. I admit there was a time when I got demotivated.
After a period of self-reflection, and chanting as I follow Nichiren Buddhism, I gathered courage and determination to turn around my life.
I told myself that I can do this! If I need independence, then I have to start to rebuild myself, If I want to become a part of the community, I need to learn the local language. Slowly but surely I refound myself and a new me was born.
It was at that time I had chanced upon skilled women artists in India creating beautiful pieces of work and I was inspired to take their art to the world.
Although, I have a Masters in international Trade and have worked in the corporate world of international logistics for over 10 years, I have always been inspired by beautiful fabrics, designs and creativity.
I am a self-taught designer. Every piece we wear says who we are, I feel it is very important to style ourselves in a way that reflects our personality, thoughts as well as ideas.
Keeping that in mind, I founded Les Sûtras. The concepts, colors and ideas are done by me in Luxembourg and the products are made in my atelier in India, where I come from originally.
Sûtras also means "Threads", in Sanskrit, ancient Indian language. So it's "Threads of love", as I am trying to bring together both my home countries "India " and "Luxembourg ".
My advice to other women still looking for their mission is to "Never Give up and believe in yourself"!.
Age is just a number, never think it is too late.
Take one step at a time, do not look at the whole staircase ahead of you. It is ok to take baby steps, do not overthink too much. Just get started.
It is crucial to build a strong circle / support system who can support you as Entrepreneurship can be a lonely journey.
Zenia Dutta Roy